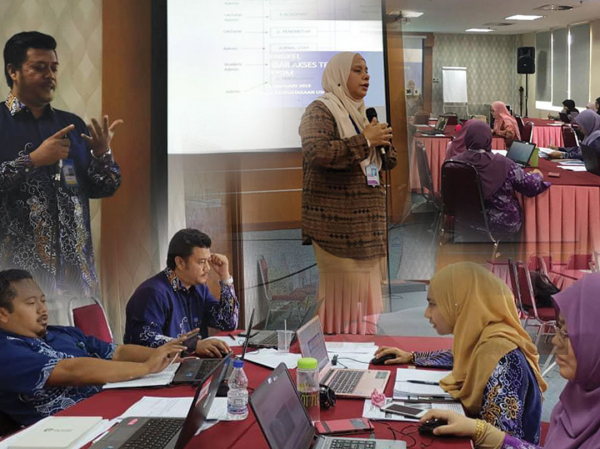 NILAI, July 23, 2019 – Universiti Sains Islam Malaysia (USIM) created history as the first Public University in Malaysia to establish an Open Access Policy, which is the concept of unlimited free online information sharing and dissemination to increase access to the writings and research by USIM staff in various publishing media.
USIM Deputy Vice-Chancellor of Research and Innovation Prof Dato Dr Roshada Hashim said the Open Access Policy was drafted and approved in the University Management Meeting of the Board of Directors of the University on 23 May 2019. USIM Library Department has been appointed as the party responsible for empowering, enriching, conserving and distributing the intellectual works of the university.
"The objective of the policy is to determine the direction, procedures and responsibilities of all individuals involved in the open access initiative. Furthermore, it is to emphasise to the writers, researchers and departments involved of the requirements that need to be complied with and to ensure that every writer, researcher and department involved clearly understand their duties and responsibilities consistent with the established policies, rules, directives and procedures".
Dato' Roshada added that an open access platform known as the Research Repository System will be developed for USIM writers and researchers to upload their writings and research results for public access in ensuring universal sustainability.
With the Open Access implementation effort, USIM is expected to successfully achieve its agenda as stated in the mandate of the Vice-Chancellor 2019, which is to take more proactive steps through the 'university for society' approach. It will also provide USIM with the opportunity to collaborate with open access pioneers and forerunners from around the world.
Prepared by:
Noorumaina Mohamed Yunus
Pusat Komunikasi Strategik (StraComm)
Aras 1, Canselori Universiti Sains Islam Malaysia (USIM)
71800 Nilai, Negeri Sembilan